Finally they found Feldon semi-snoring in the same cupboard in the kitchen where he'd hidden the other day. His chin leaned against the edge of a pot and Stan tried to extricate him gently but he was not moving.
"Do you think he can just stay in there?" Janine asked.
They were both on their knees looking in the cupboard. Her mouth was so close to his he had to pull back to miss it.
Her hand was on his thigh. For balance.
"Can't be very comfortable," he said.
If she pushed slightly she could knock him flat on his back.
"I'd love to see your room," she whispered.
---
Kirkus Reviews 2011 Top books for teens in U.S. Fall 2011 selection for Young Adults (mature) – Junior Library Guild, U.S. Quill & Quire 2011 Top books for young readers in Canada. CBC Radio The Next Chapter Selection 
---
"It is perhaps not surprising, given Cumyn's artistic prowess, that Stan's getting to first base (and beyond) with Janine, all the while contending with a distracted, more-or-less-at-sea single mother, a needy younger sister and an AWOL father, forms the basis of a delightful novel, one that is smart, tender and funny in all the right places, and one in which fully drawn, wonderfully alive characters vie for our attention." The Globe and Mail
---
More on Tilt
---
---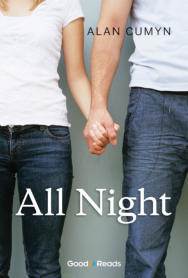 I pull her under the covers again. "Enough of you and your elephants," I say. "I sat on a bus for hours in the cold in the wrong clothes to mourn my friend. Doing The Rats' Nest is another way of honouring him. And… people from Second City Club might be there. You never know who will hire us next." She must understand this. She must…
"To pay you what?" Jess asks. "French fries?"
I rub my empty belly. "French fries would be good right now. I would have somebody killed to get a basket of french fries right now."
---
A romantic comedy about a young, artsy couple living poor and facing up to some hard facts about death and push-ups. Adapted from a play of the same name by Alan Cumyn.
---
Order All Night: Grass Roots Press Amazon Chapters-Indigo Barnes and Nobel
---